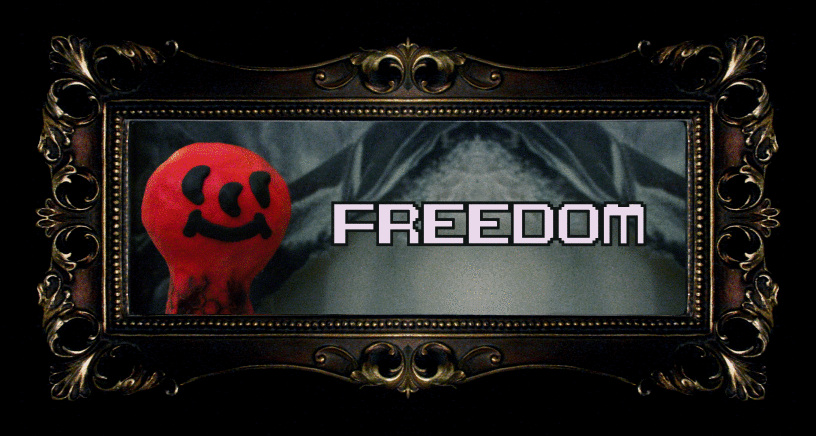 FREEDOM: Diegesis
A downloadable game for Windows
FREEDOM: Diegesis is a free 2D side-scroller with puzzle, adventure, and horror elements. It weaves a mysterious "show, don't tell" story through-out its gameplay mechanics.
Latest updates:
- April 24, 2022 - New versions (2a) that will hopefully work better on current versions of Windows. Almost no new content added. Please let me know if you encounter a bug with these new versions.
- April 11, 2016 - Loading fix, bug fixes, and secret updates.

- May 10, 2016 - Optional soundtrack download added.
---
STORY SET-UP:
This world was once a predictable place, where heroes stomped minions and rescued damsels. But now it is mutating into something much stranger. As a result the heroes are missing or unwilling, and the villains have huddled away searching for more from life.
The protagonist, a disgraced prisoner, finds himself in over his head amidst these changes. He's tasked with infiltrating the Eastern Lands and rescuing his kingdom's princess in exchange for freedom. But he's no warrior, and the world's mutation is spreading...
HOW TO PLAY:

Arrow keys to move, climb, or push.
X to jump (or to let go of a ladder).
C for actions/interactions.
R to reset a level if you get stuck.
W to switch toggle fullscreen (letterboxed).
M to toggle muting of all audio, L to toggle half-volume mode.
P to pause or unpause (this also opens a list of controls).
F4 to exit the program.
Progress is auto-saved at title-cards between levels.
Touching any enemy or hazard will kill you and reset the level.
Watch out, its easy to get stuck in pits or puzzles. Look before you leap!
You can try to collect all the coins and treasures, but why bother?
WARNING: Game contains mild strobe effects and possibly disturbing content.
See the included readme.txt for credits.
Install instructions
To play simply unzip the game folder anywhere and run freedom.exe. You can read the readme.txt file for more information. Thanks for playing!
Note that users of Avast anti-virus may experience issues with downloading or running the game due to a false-positive problem with Construct 2 exported games.
Comments
Log in with itch.io to leave a comment.
Is exegesis being worked on, or was it canceled?

I hope it wasn't cancelled! I'd love a follow-up to this game.
I keep coming back to the idea, but I haven't gotten far with it, so far. Maybe some day!
SO fucking cool. One of the most unique and creative games I've ever played
Good stuff, fun to play and nice visuals.
Only thought after finishing:
Wow! When will exegesis come out?
Hi, are you ok with people let's playing the game and monetizing the videos on YouTube? I'm really interesting in covering this game on my channel.

Hello, sorry for the delayed reply. I would love if you covered my game!
What is your channel
Latest version: got to level with rusted door key, couldn't jump from guys head over wall.
I saw someone else have the same issue on YouTube. Seems like its possible to get stuck a little bit inside his head instead of totally on it. I'll fix it for the next build, but for now you should be able to just jump away from his head then jump back on. Thanks for letting me know.
I'm definitely right on top of the guys head - I've tried like 5 times-
Ok, I'm not sure why that was happening for you but it should be fixed in the newest versions.